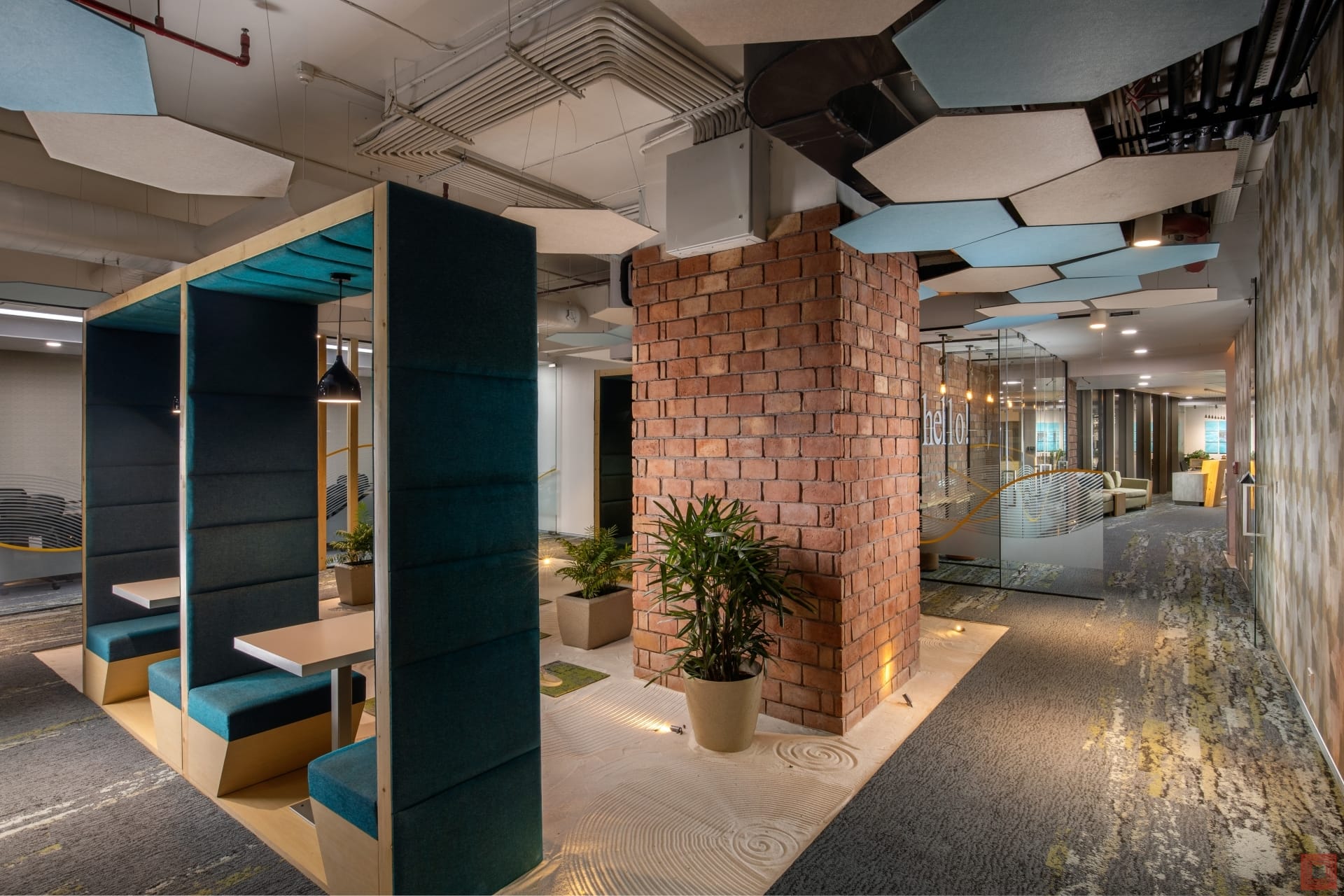 Scope of Work: Turn-key (Design and Build)

Area: 1700 SQ.M

Year: 2020

Status: Built

Location: Noida, Uttar Pradesh, India

Category: Office Interiors, Commercial
A new age workspace where the aim was to intertwine outside with inside.
The main aim was to bring nature into the workplace which can help boost creativity and focus.
With this concept clear in mind, the material selection was of utmost importance:
Use of unpolished pine wood pergolas with slots for self-watering plants
Each Pergola was designed to have a set of specially curated Fluid Paintings to bring color into an office space
A new design system was introduced to provide lighting strips in the pergolas
Moss carpets were used to mimic the look of grass
Open Ceiling concept was applied in the workspace areas for a grander look.
The office space was planned carefully to have different zones according to their functions:
1) Public Zone: Telephone Booths, Conference Rooms, Open Meeting Pods, Meeting Rooms
2) Private Zone: Main Office Workspace Area and Café for Staff
3) Power Zone: Director's and President's Office
4) Zen Court: To Relax and Hold In-formal Meetings
Acoustic panels were used in the lecture rooms to mitigate noise and reduce echo and reverberation. A play of colors in the experience center was done to create a powerful impact. The colors perfectly complimented the organization's values, work ethics, and culture. Apart from this, we used one single color-yellow throughout the office to establish the feeling of oneness and team spirit among the employees.